2023 Update - Newsletter, Summer Exhibit, New Collections, & More
August 14, 2023 | Mick Jarvis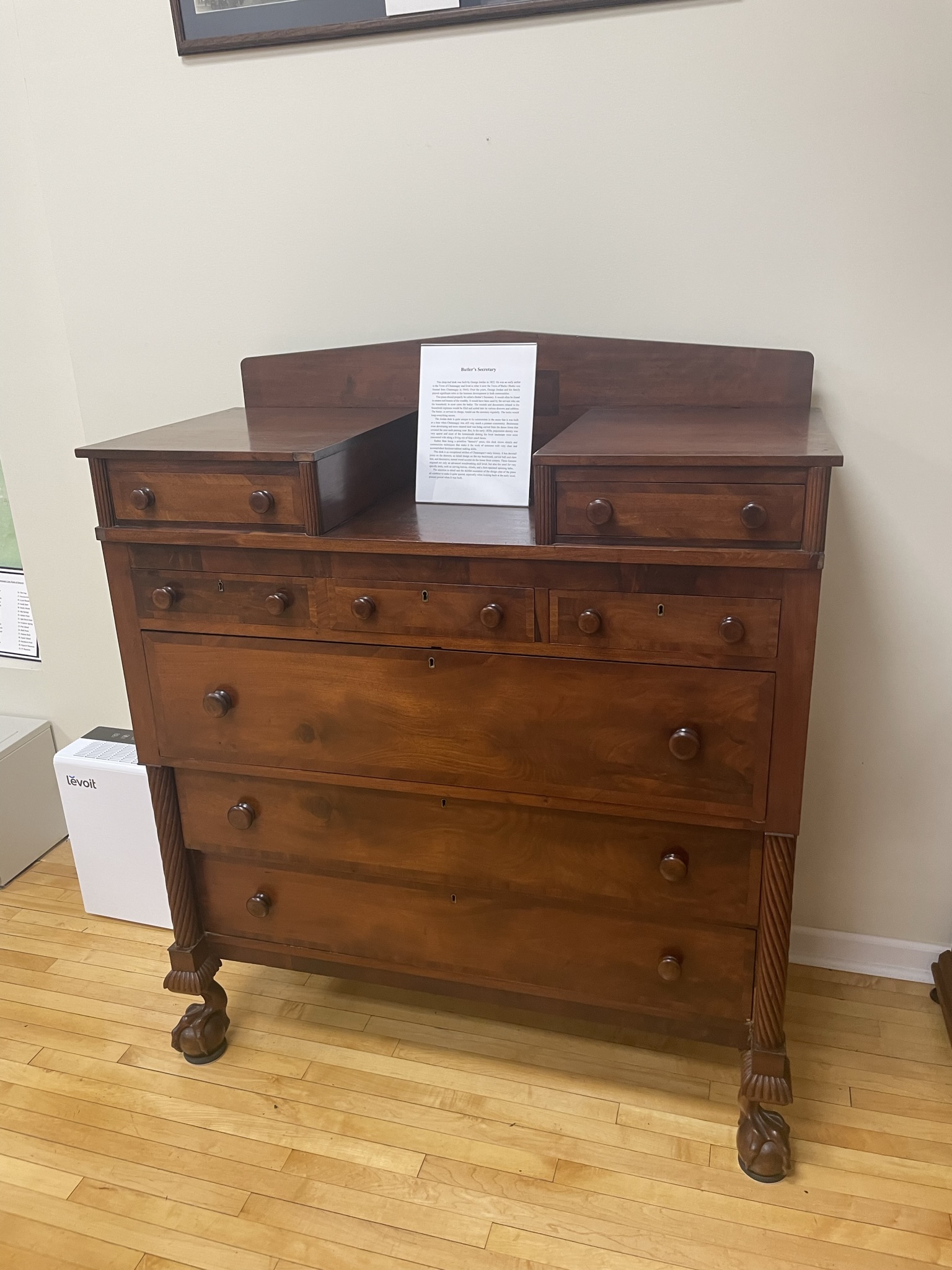 Butler's Secretary - built in Chateaugay in 1822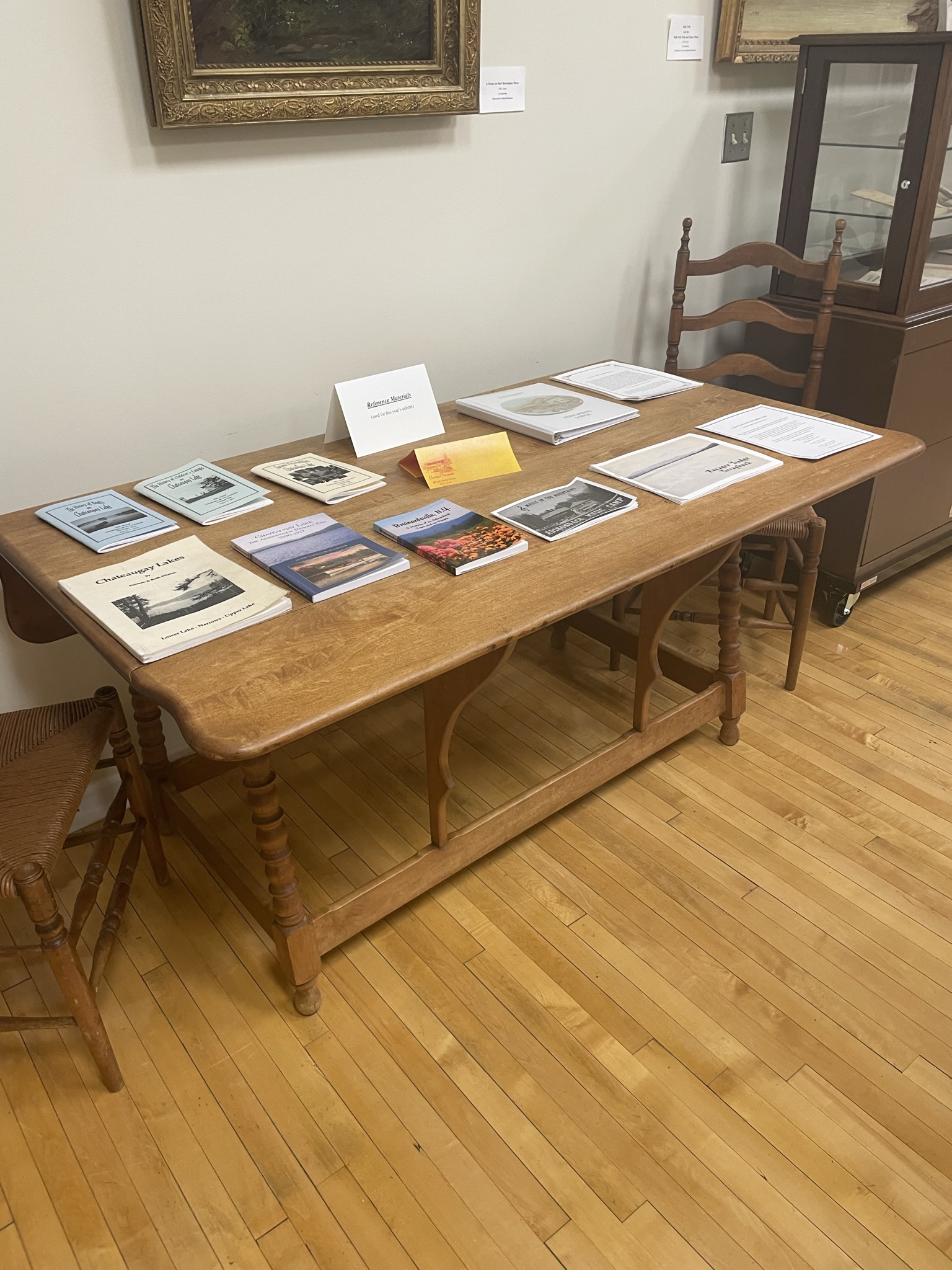 2023 Summer Exhibit, "Chateaugay Lake, 1900-1950"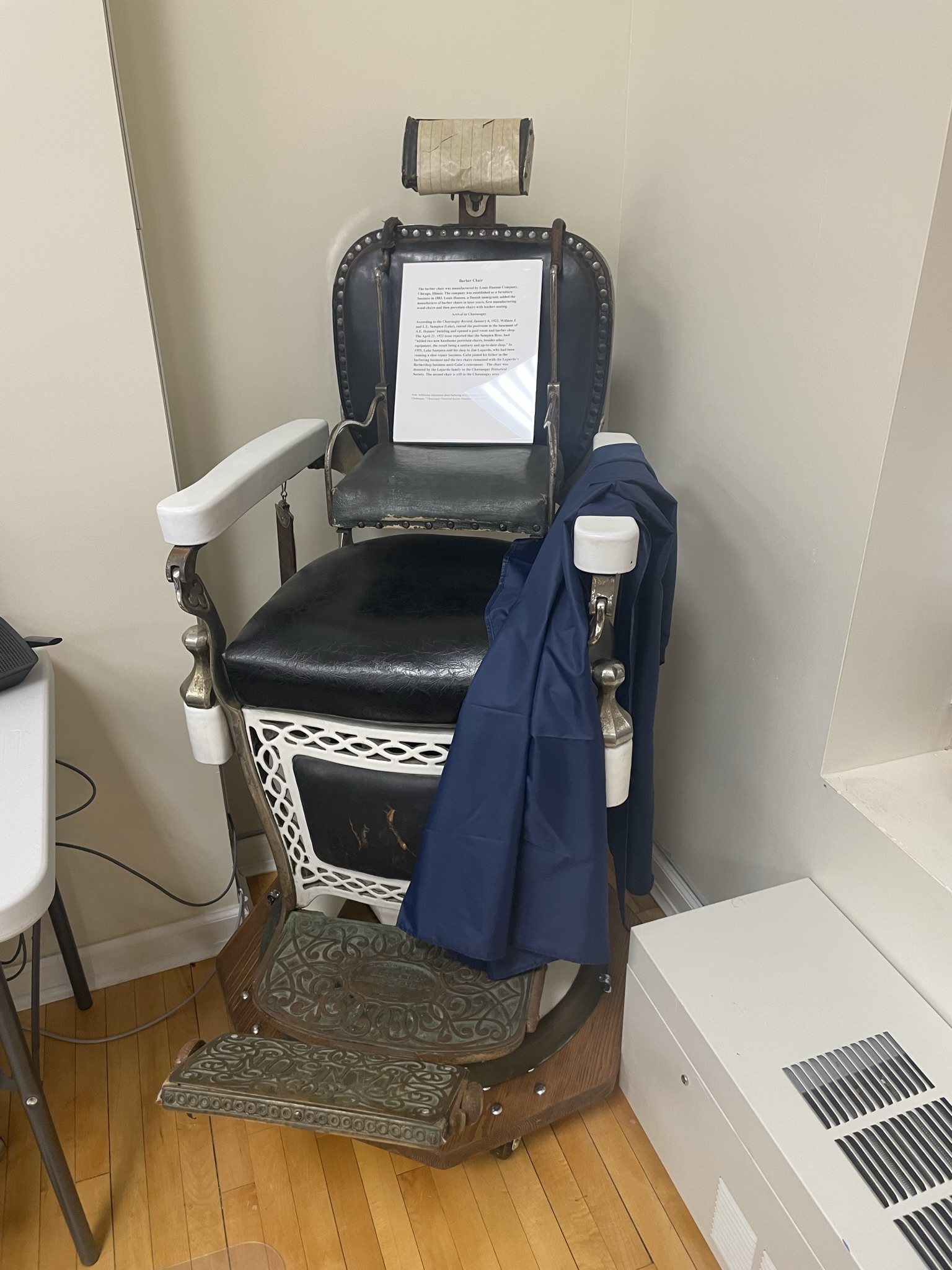 Lopardo's Barber Chair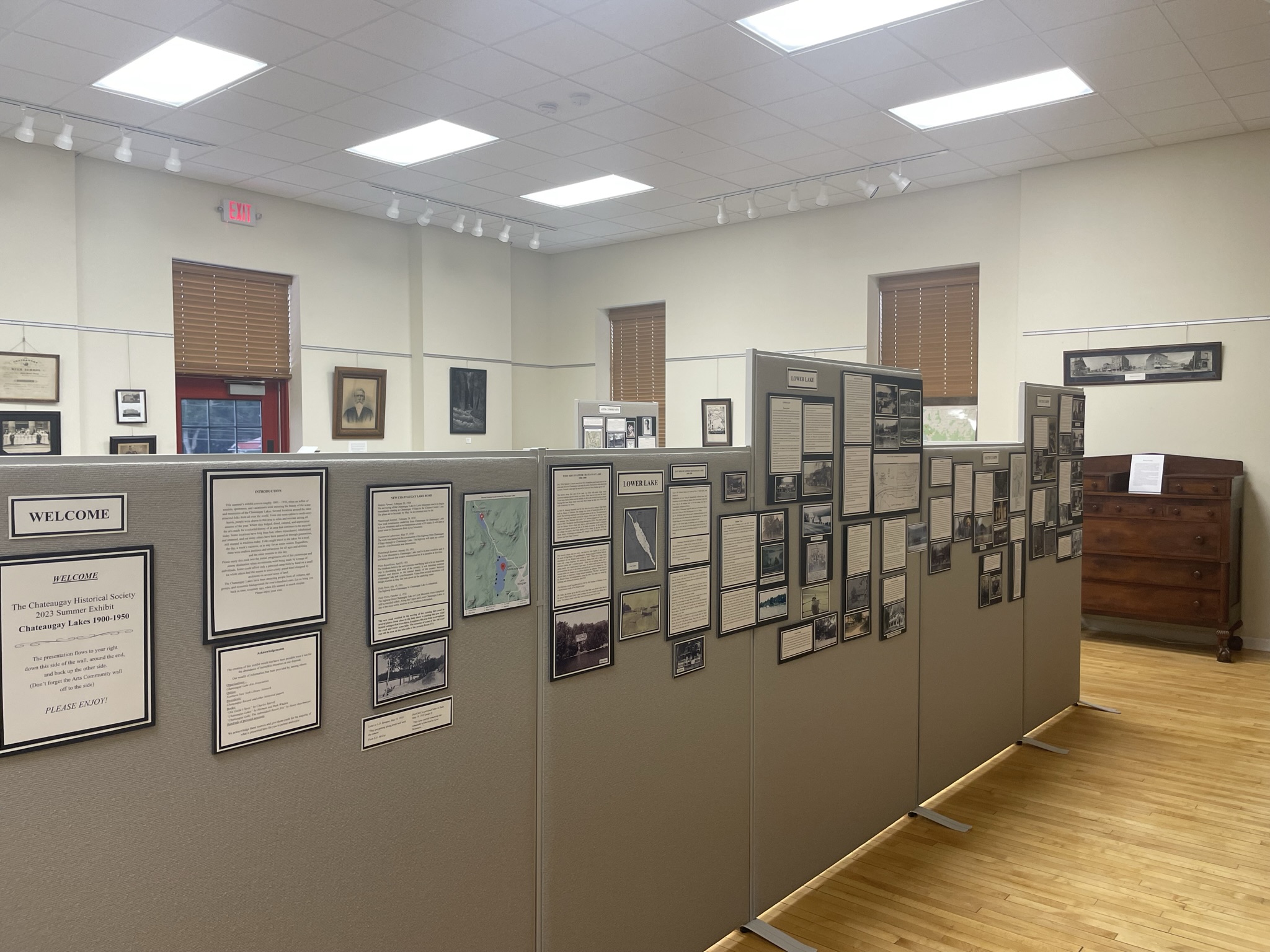 2023 Summer Exhibit, "Chateaugay Lake, 1900-1950"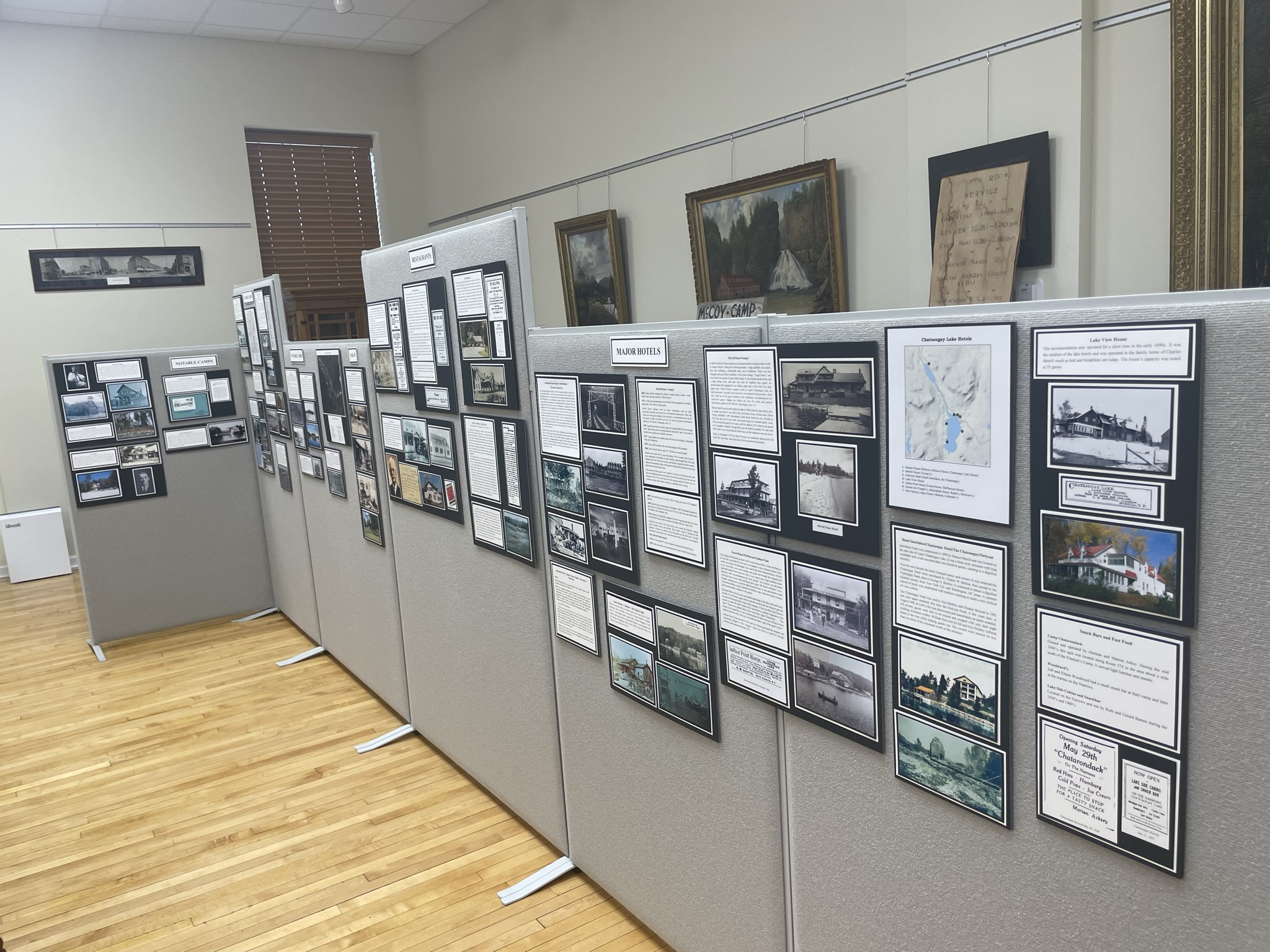 2023 Summer Exhibit, "Chateaugay Lake, 1900-1950"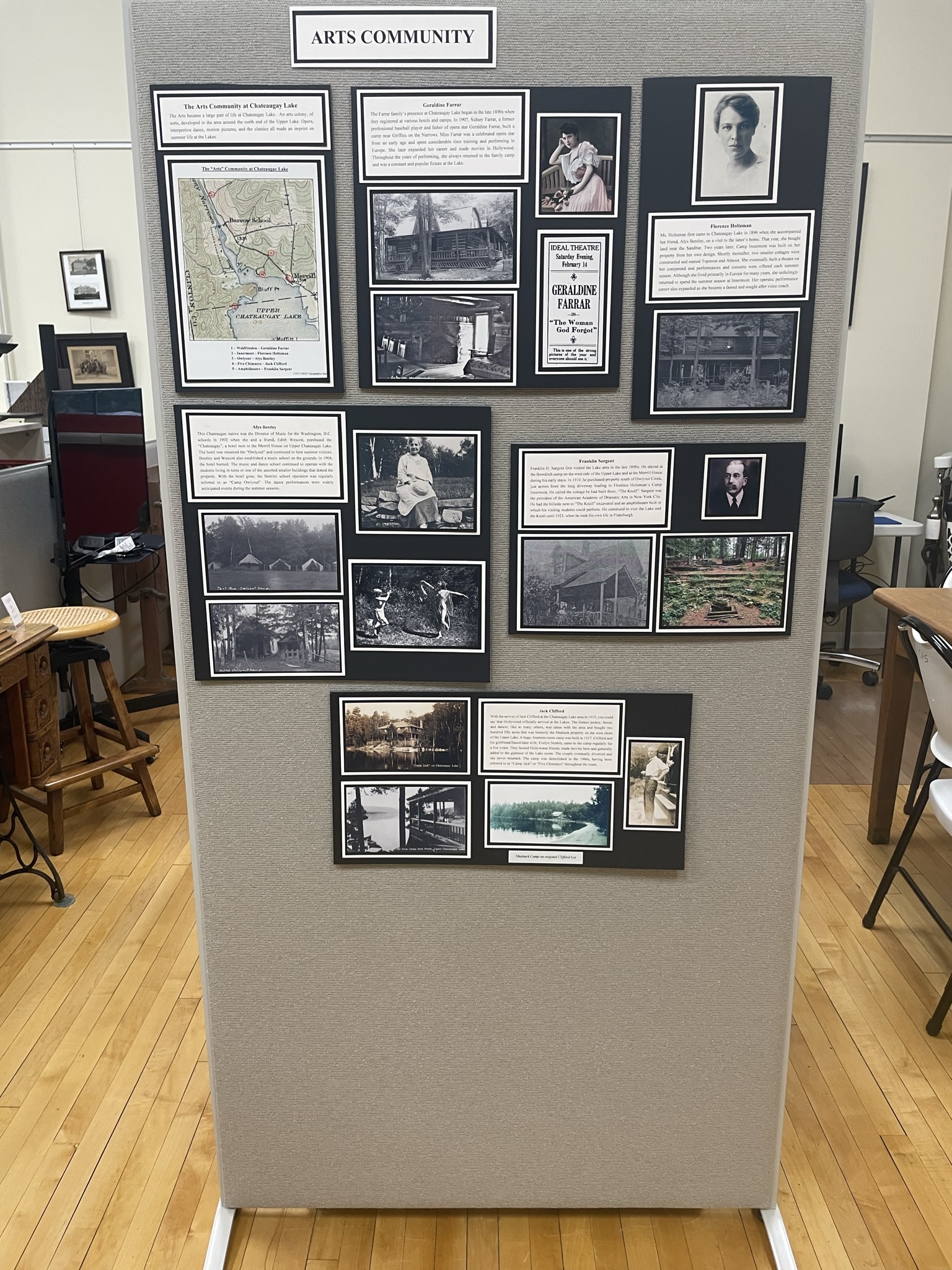 2023 Summer Exhibit, "Chateaugay Lake, 1900-1950"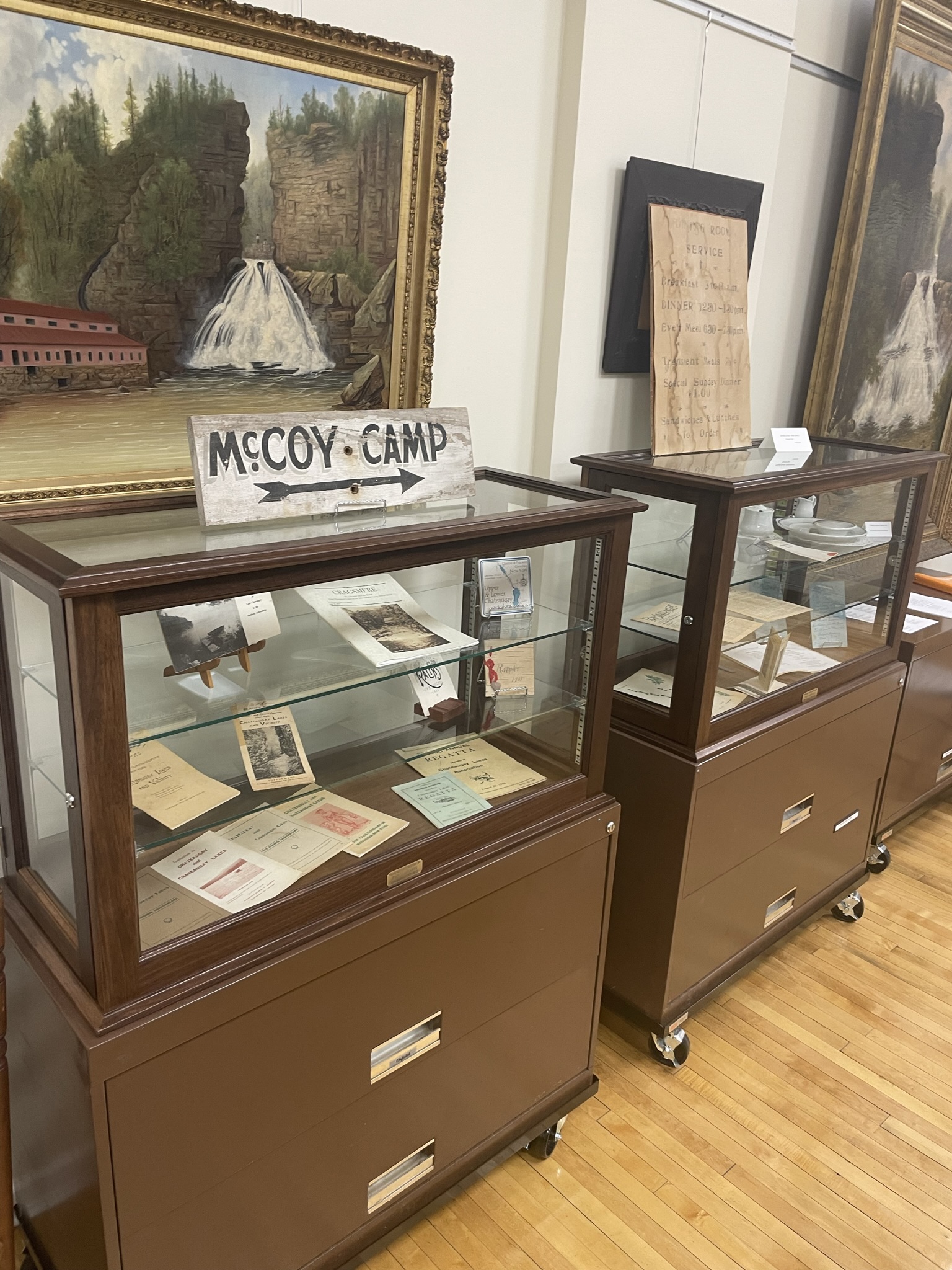 2023 Summer Exhibit, "Chateaugay Lake, 1900-1950", featuring new, locally crafted display cabinets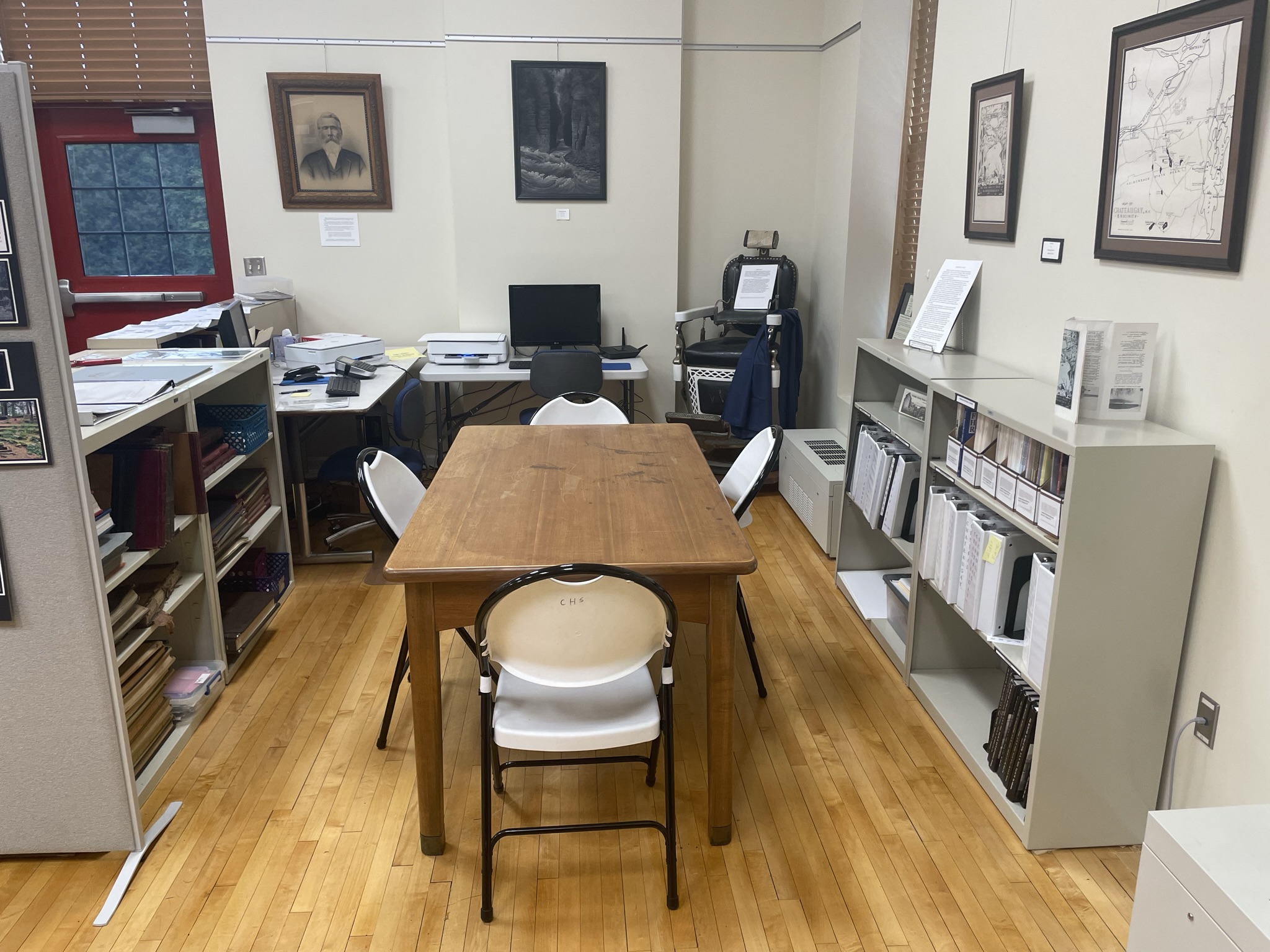 Archival Center Public Research Area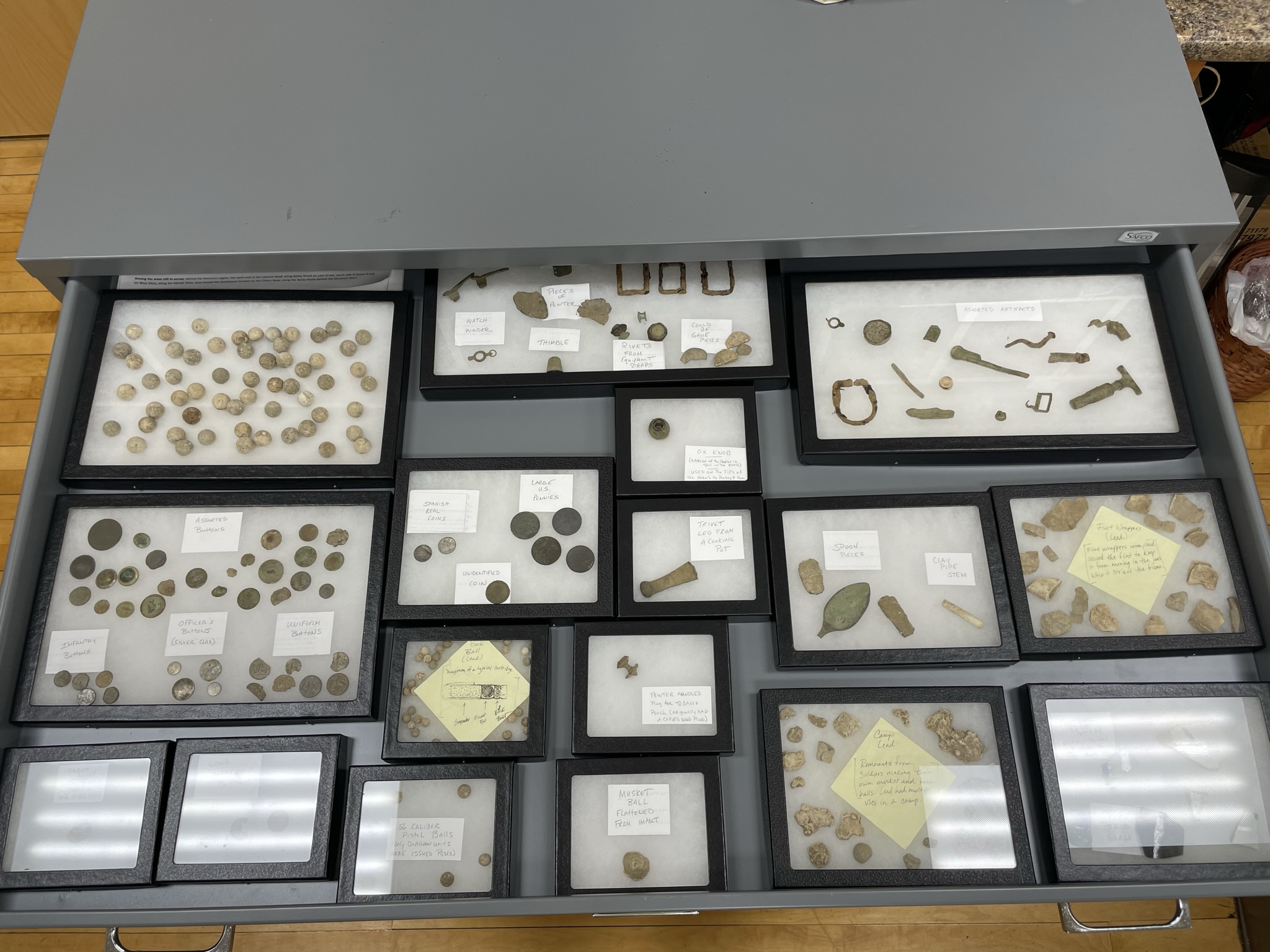 War of 1812 artifacts uncovered by Peter Sorrell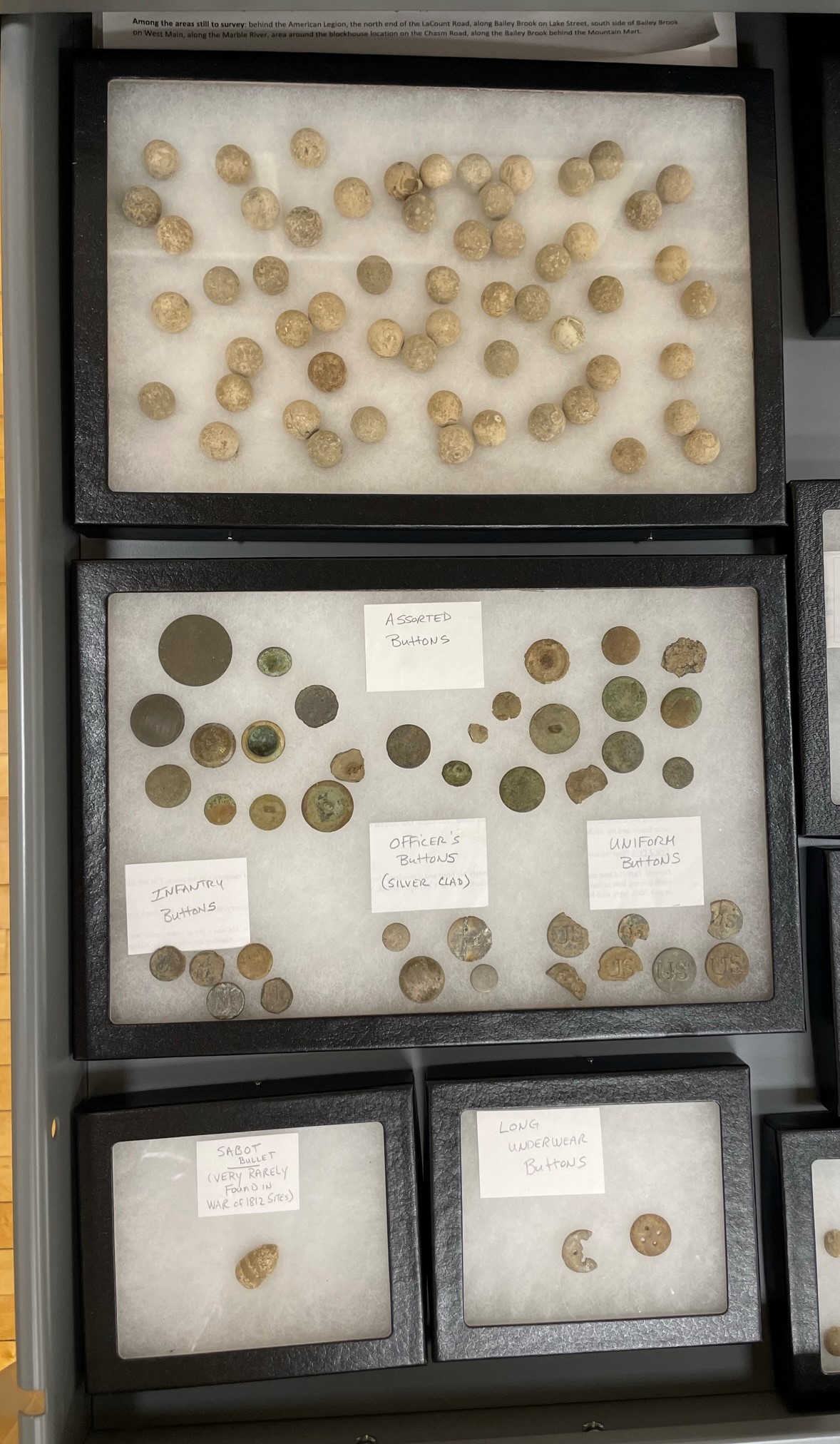 War of 1812 artifacts uncovered by Peter Sorrell
To view full size images and read captions, click on an image.
The Chateaugay Historical Society has begun work on our next newsletter. We will be mailing it during September. Another 28 pages of articles and photographs which will include: the Home Guild, the covered bridge that spanned the Chateaugay River for over ninety years, the story of J.C. Cook's store on "the lines" in Churubusco, another reminiscence from Royal Nadeau, and the beginning of a new recurring series "Notable Chateaugay Citizens".
In addition, our summer exhibit: "Chateaugay Lake 1900-1950" is open every Wednesday and Saturday morning from 9am until noon until the end of September. It has been well-attended thus far and has resulted in many donations to our growing archival collection. Folks have been very eager to help our group to continue saving and preserving artifacts, photos, documents and relics from Chateaugay's past.
Speaking of our archival collection, we have had a very busy year with donations coming in weekly. Some major pieces we have acquired recently have been: a Butler's Secretary built here in 1822, the barber chair that was in Lopardo's for many, many years, and a maple drop-leaf dining table that was originally part of the Home Economics room in the Old School at the end of Church Street.
We have been able to add to our photo archives with significant donations of Chateaugay Lake photos, a collection of studio portraits from local photographers, and hundreds of historical photographs from two local estates.
Our document collection has also grown. A number of early business ledgers and records have arrived. Also, we are now the repository of the papers of Gates Hoit - a very early Chateaugay settler who was the Governor's land agent for many early property sales, a participant in the War of 1812, and was the local citizen that spearheaded the construction of a blockhouse where the Marble River enters the Chateaugay.
Speaking of the War of 1812, we are working with metal detectorist, Peter Sorrell of Adirondack Detecting, to uncover relics from that time period. Pete approached us and asked if we might like to acquire any artifacts he might find for our collection. Every landowner he approached was glad to grant permission for him to search on their property. So far, our small collection of war artifacts includes: uniform buttons, musket balls, small tools, coins and other items.
As you can see, we have been very busy in the last several years. We are encouraged when folks come in with donations and express their gratitude that we represent a place where their items will be properly catalogued, stored in appropriate archival conditions, and made available for display or research. One couple came in earlier this summer with items and photos for us and summed up our Society's mission with one statement: "We were so glad that your group was available to take these items and preserve them. Otherwise, we would have thrown them out." Anything donated to our group is always properly stored and preserved and used to tell Chateaugay's story from its founding in 1796 in our displays and exhibits. As we have always said from day one: "Everything in our Archival Collection represents pieces of Chateaugay history that will always stay in Chateaugay."
We have upgraded our computer system, added more high quality scanners, new document and photo printers, and have greatly strengthened our cyber security protocols.
A local cabinetmaker has built two new locking display cases, which we immediately put to use with our current exhibit.
We have rearranged and added to our public research area, adding new printers and many additional resources.
In any event, we stay busy. If you have never been to our Archival Center on the second floor of the Town Hall, stop in any Wednesday or Saturday morning and see what we are up to. We love to have visitors.
We have around 325 annual members (which I think is pretty remarkable for a small town). An annual membership comes with all four 28-page newsletters. Since we began the newsletter in 2007, we have published over 1,300 pages of articles about Chateaugay's history. If you are not a member, a form can be under the "Membership" section of our "About" page.
Anyway, so much for tooting our horn, but this update about the next newsletter kind of grew into a much more involved summary of what we've been up to. I didn't plan on it being so lengthy when I sat down at the keyboard... But, we always feel it is so important to keep everyone informed about our activities.
Enjoy the rest of the summer!